Sometimes, buying used just makes the most sense when you're shopping for your next car. If you're in the market for a pre-owned Ford, our team at Norm Reeves Ford Superstore Cerritos is here to help!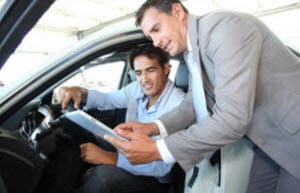 We've compiled this guide to the best pre-owned Fords to buy in the Cerritos, Long Beach, and Anaheim areas, all to give you a better idea of what's out there in the used Ford market.
You can read our guide for some ideas then check our pre-owned inventory to see if we have your favorite Ford in stock.
Ford Escape
For an aggressive, rugged crossover, you may want to get a closer look at the Ford Escape. This compact vehicle is family friendly and offers a good balance between power and efficiency. Since its 2013 redesign, the Escape has been available with intelligent four-wheel drive, making light off-roading easier than ever before.
In 2013 and after, the Escape made a name for itself with its excellent fuel economy, technology, interior space, and accessibility. If you're looking for a pre-owned Ford model that's a little rough around the edges, the Escape is a good way to go.
Ford Fiesta
 The Ford subcompact car has been one of the brand's most popular over the years. This little car's been around since 1976, but it's been in its current (sixth) generation since 2011 in North America. It comes as both a four-door sedan and a five-door hatchback, so you can choose the body style that fits your needs best.
The Fiesta offers sharp handling-you'll find the ST trim, introduced in 2014, handles the sportiest. With a high-end interior and a sleek, modern outer shape as well, the Ford Fiesta is an excellent choice of car to buy used.
Ford Fusion
With a slate of EcoBoost® turbocharged I-4 engines and 2017's recent addition of a V6, a used Ford Fusion can get you anywhere from 181 to 325 horsepower. That's impressive for a sedan, and it'll give you the boost you need to get you where you need to go faster.
Test Drive the Best Used Fords Today!
We feel like we've just barely scraped the tip of the iceberg with this list. There are many top-notch pre-owned Fords out there, and you'll find many of them at Norm Reeves Ford Superstore Cerritos. Browse our used vehicle inventory at your leisure and check out our certified pre-owned vehicles for lightly used Fords under extended warranties with great financing deals!
If you live near Cerritos, Long Beach, or Anaheim, schedule a test drive with any of our used cars today and see how they handle firsthand. If you have any questions, don't hesitate to contact us!